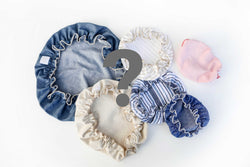 Dot and Army
Mystery Bowl Covers, set of three
This is a great set of bowl covers if you are not particular with the color or print of the fabrics!
You will receive a set of three bowl covers: (1) 8" bowl covers, (1) 11" bowl cover, and (1) 14" bowl cover in random, but coordinating fabrics. Please no requests. 
Reusable bowl covers, in three sizes- perfect for making bread, covering a salad to be served later, cookies to bring to a neighbor, a small bowl of nuts. Also great as a kombucha cover.  The large also fits over a casserole dish.

These are breathable, so they are good for short term storage. 

Made from linen cotton blend fabrics.
Care: regular machine washing air dry
Made by us in Brunswick, Georgia.
free shipping on all orders over $75
standard shipping: $6 flat on all other orders
*all items ship in 3-5 days, with an additional 1-5 days for delivery
need it sooner?
leave us a message at checkout and we'll confirm with you